Motorized Vertical Blinds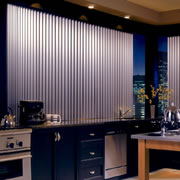 Vertical blinds are perfect-for-windows that are broader than they are high and slide from side-to-side. They are manufactured in aluminum, vinyl, or fabric, and can be found in numerous hues. Glare can be bothersome when watching television, surfing the web, or simply reading a book. With motorized vertical blinds, it's simple and easy to manage glare with the touch of a button. Presets can be automated for your preferred light levels as well.
By utilizing wireless-wall switches, vertical blinds can be maneuvered when entering or leaving a room. Additionally, flaccid cords can be dangerous for children and pets. Motorized vertical blinds eliminate the need for cords removing an ever-present danger within the home. Motorized vertical blinds are easy to install and economical. In addition, they give rooms an up-to-date look and are perfect for sliding glass patio doors. Moreover, wider areas of glass can be covered without the need to add other types of window treatments.
Click here to request a free quote for motorized vertical blinds from DC Window Automation today