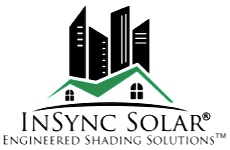 The New Generation of Window Coverings

Architectural & Contractor Services Click here to read more
Expert in providing Architects, Designers, Specifiers, Contractors and Owners with advice, products and services on Heat, Glare and Light Control with Window Coverings. This knowledge includes:
Manual and Automated Control Systems
Fabric Technologies
Sustainable Solutions for LEED
Interior and Exterior Shading Solutions
Skylight, Blackout and Dual Shading Solutions

Interior Solutions Click here to read more
All of InSync Solar's Engineered Interior Shading Solutions are designed with your choice of three cassette options. The TEKNO, DEKO and MODULINE. These aluminum top treatments come in standard finishes or can be custom finished. Additionally, all of our Interior Solutions can be installed into ceiling pockets where we can provide the aluminum pocket or just a simple closure plate.

Exterior Solutions Click here to read more
Exterior roller shading solutions are well suited to reduce heat gain, lower energy costs, provide glare control and optimize daylighting. These systems significantly reduces air conditioning energy consumption.

Technical Documents Click here to read more
The New Generation of Window Coverings