WhisperTrac™ Motorized Drapery System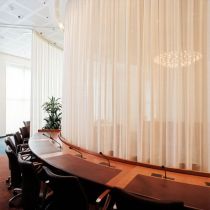 WhisperTrac, a versatile family of motorized drapery products, is setting a new standard for design and function. In addition to its clean, monochromatic, European design, WhisperTrac is quiet and can bend to the tightest radius for curved conditions. Depending on design, control, and size requirements, you can now select the best WhisperTrac model to fit your application. Both the 3020HD and 3032MD motor drives offer quiet 24-volt operation, making these systems as easy to power as plugging in a lamp. The WhisperTrac 1000 model includes a 24VDC transformer for the same ease of use.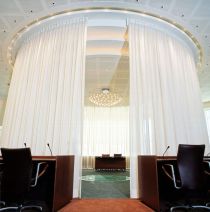 WhisperTrac motors feature:
A range of low-voltage to heavy-duty motors to accommodate various drapery weights, from low-voltage to heavy-duty.
Support for Pinch-pleat, RippleFold, and accordion-fold draperies.
Silent to conversationally-quiet operation.
Standard 120V duplex wall-plugs.
Symmetrical, permitting both left and right side motor mounts.
Compatibility with 3rd-party home-automation systems.
Available IP addressing and network interfacing with IQ/485®.
Color-coordinated track, motor, and components.
WhisperTrac 1000 System features:
A quiet, ultra-low-friction track.
The cost-effective, low-voltage IQ® motor system.
Drapery weight capability of 40 lbs.
A straight track.
Automatic, non-electronic torque limits that do not need to be set and which cannot be lost.
A sleek, compact, and high-tech appearance.
Is ideal for residential, home theater, hospitality, conference room, and light commercial applications.
WhisperTrac 3000 System features:
Compatibility with A/V control systems via CAN Bus or dry-contact systems.
The ability to be daisy-chained for local, sub-group, and/or master control zones.
Suitable for all residential, hotel, and corporate applications.
WhisperTrac 3020HD:
Is the most powerful architectural motorized drapery system, yet whisper quiet.
Handles maximum drapery weights up to 330 lbs. on a straight track.
Can handle over more than 58 feet of drapery, whether straight or curved.
Offers up to five intermediate stop positions.
Can be easily programmed using the an infrared (IR) transmitter.
Includes a tandem-motor option for extra-heavy draperies.
Can be installed without an electrician.
WhisperTrac 3032MD:
Features a medium-duty, conversationally quiet motor.
Has a low-voltage (24V) motor suitable for light- to medium-weight draperies.
Requires no pre-wiring.
Can be curved up to 32 feet.
Handles up to 88 lbs. on a straight track.
Is suitable for contemporary living environments, and can be used in the hotel, education, and leisure industries by people with limited mobility.
Is more economical than the 3020HD model.